BPG6615
BPG6615 PCI Express Backplane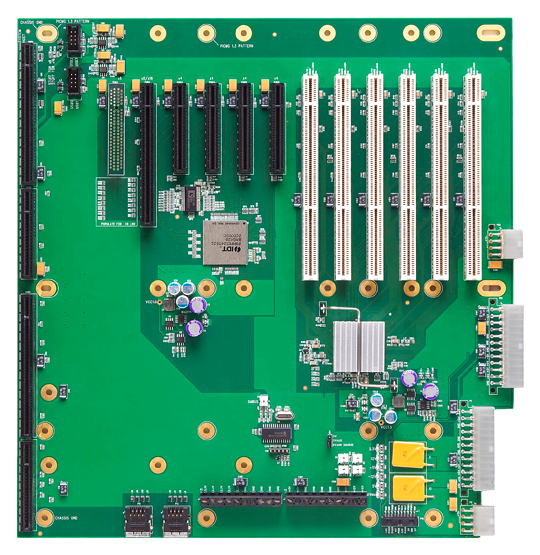 Key Features
Wide Range of SBC Options

1-x16 & 4-x4 PCIe I/O Cards

2-64-bit/100MHz PCI-X Slots

4-64-bit/66MHz PCI-X Slots
The BPG6615 PCI Express Backplane
The BPG6615 PCI Express backplane has a 14-slot form factor that enables 4U rackmount computer designs that can support a single or dual-processor PICMG 1.3 single board computer, five PCI Express and six PCI-X/PCI standard plug-in I/O cards.  Typical dual-processor SBCs used with this backplane include the BPX7059 and JXT6966 while single-processor boards include the TSB7053 and TQ9.
The x16 PCIe card slot on the BPG6615 PCI Express backplane is driven with a x16 electrical interface link direct from the SBC.  The remaining four x8 PCIe slots available on the backplane are driven with x4 links from a 24-lane PCI Express switch.  The PCIe switch also provides a x4 link that drives the dual-channel PCIe-to-PCI-X bridge which interfaces the PCI-X/PCI option card slots to the system's single board computer.
Key features of the BPG6615 PCI Express backplane include:

14-slot form factor server-class backplane ideal for 4U rackmount computer systems

Supports up to six PCI Express plug-in I/O cards

1 – x16 PCI Express electrical / x16 mechanical connector [direct from SBC]

4 – x4 PCI Express electrical /  x8 mechanical connector [driven by PCIe switch]

Supports up to six PCI-X/PCI plug-in I/O cards

2 – 64-bit/100MHz PCI-X

4 – 64-bit/66MHz PCI-X

Supports one PICMG 1.3 system host board and two USB 2.0 headers

Long-life backplane with 7+ year availability for stable system designs
The BPG6615 PCI Express backplane is designed, manufactured and supported in the USA and comes with a 5-year warranty.

Tech Specs
Model Number
BPG6615
Form Factor
14-slot factor, one segment
Power Connectors
The BPG6615 backplane is available with low-profile right angle and vertical power connectors suitable for use with either an ATX or EPS power supply.
Power Indicators
+5V, -5V, +5V AUX, +12V, -12V and +3.3V power connection
Mechanical
Board dimensions: 12.3" x 12.9"
The nominal backplane thickness is 0.080"; however, the backplane mounting holes are recessed 0.018" on the bottom to provide an effective PCB thickness of 0.062" for use in the chassis design process.
Configuration
PCI Express Slots
One, x16 PCIe slot (x16 mechanical) driven directly from SHB
Four, x4 PCIe slots (x8 mechanical) driven from SHB via PCIe switch
PCI-X/PCI Slots
Four, PCI-X/PCI slots, 64-bit/66MHz
Two, PCI-X/PCI slots, 64-bit/100MHz
See datasheet or mechanical layout diagram for detailed slot routing information.
Size
12.3″ x 12.9″ (14-slot)
Card Slots
1 – x16 PCI Express 1.1 electrical / x16 mech. connector
4 –  x4 PCI Express 1.1 electrical /  x8 mech. connectors
2 – 64-bit/100MHz PCI-X
4 – 64-bit/66MHz PCI-X
Suggested SHB/SBC's
Dual-processor SBCs: BXT7059, JXT6966
Single-processor SBCs: TSB7053, TQ9, TML, BXTS7059, JXTS6966
Dual-processor SBC's
BXT7059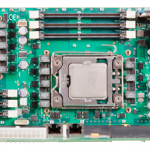 BXT7059 Single Board Computer
BXT7059 Details
JXT6966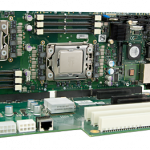 JXT6966 Single Board Computer
JXT6966 Details
Single-processor SBC's
SHB Configuration
PICMG 1.3 Combo or Graphics-class
Agency Approvals and Compliance
Designed for UL60950 and CAN/CSA C22.2 No.60950-00
Environmental
Operating Temp:  0°C to 60°C
Storage Temp: -40° to 70°C
Humidity: 5% to 90% non-condensing
Downloads