SLT
SLT Single Board Computer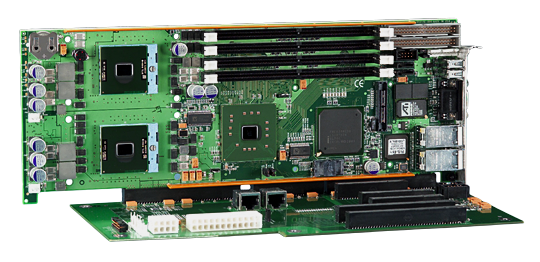 Key Features
Dual Low Power Processors

Low-Profile Cooling Solutions

DDR2-400 Memory Interfaces

PCIe 1.1 Interface Links
The SLT Single Board Computer
The SLT single board computer features two, power efficient, dual-core processors that together provide four execution cores per SLT.  The SLT's two Dual-Core Intel® Xeon® LV Processor 2.0GHz CPUs deliver superior processing capability and system performance using about half as much power as compared to other Intel Xeon processors.  The SLT is a PICMG® 1.3 SBC that supports PCI Express, PCI and PCI-X option cards on a PICMG 1.3 server-class backplane. Key features of the SLT single board computer include:

Designed for low voltage, higher operating temperature environments

Supports Intel® Dual-Core Xeon® LV processors with a passive heat sink option

Single board computer with two PCI-Express x8 lanes and one PCIe x4 lane

On-board I/O interfaces including dual Gigabit Ethernet ports and a video interface
The SLT single board computer maximizes ROI with long-life, embedded components which drive an extended SBC product availability of seven years or more.  As with all of our single board computers, the SLT is designed with a standard BIOS version that is maintained under strict revision control. However, BIOS flexibility is built in by offering various BIOS modifications that may be needed to meet unique system requirements.  The SLT is designed, manufactured and supported in the U.S. and is covered by our exclusive five-year factory warranty.

Tech Specs
Model Number
SLT
Form Factor
PICMG 1.3 Server Class (PCI Express links- Two x8 and One x4 or Four x1)
CPU
2 – Dual-Core Intel Xeon LV
Processors
Two, Dual-Core Dual Intel® Xeon® LV Processors with 667MHz FSB, 2MB L2 cache
BIOS (Flash)
AMI AMIBIOS® 8
Chipset
Intel® E7520 with the Intel® E6300ESB I/O Controller Hub
Configuration
DDR2-400, 8GB max.
Comms
1 – Two x8 PCIe links and one x4 PCIe link (All links 1.1, Edge connectors A&B)
2 – 10/100/1000Base-T (I/O Bracket)
I/O
2 – SATA/150 ports
4 – USB interfaces
1 – VGA Analog Video
1 – IOB33
Memory
8GB (max), dual-channel DDR2-400 interface with four sockets
Video Interface
ATI® RAGE™ MOBILITY™ M1 video controller, 8MB integrated memory supports pixel resolutions up to 1600 x 1200 (UXGA)
Ethernet Interfaces
Intel® 82563EB Ethernet controller – Two 10/100/1000Base-T Ethernet on I/O Bracket
On-Board Interfaces
Four USB 2.0 ports – Two via I/O bracket ports, Two via on-board headers or Two routed to SHB edge connector "C"
Two SATA I/150 interfaces available via on-board headers
Two Ultra/ATA 100 interfaces
Watchdog Timer
The I/O Controller Hub features an integrated, two stage Watchdog timer with programmable reset ranges of 1ms up to 10 minutes.
Battery
Lithium-CMOS data retention
Mechanical
SLT Dimensions = 13.330″ (33.858cm) L x 4.976″ (12.639cm) H
Passive Cooling Solution Height = 0.76″ (19.30mm)
Optional Active Cooling Solution Height Range = 1.26″ (32.00mm) to 1.41″ (35.88mm)
Agency Approvals and Compliance
Designed for UL60950, CAN/CSA C22.2 No. 60950-00, EN55022:1998 Class B, EN61000-4-2:1995, EN61000-4-3:1997, EN61000-4-4:1995, EN61000-4-5:1995, EN61000-4-6:1996, EN61000-4-11:1994
Mean Time Between Failures (MTBF)
MTBF = 202,065 Power-On Hours (POH) at 40 C per Belcore
Power Requirements – 100% stressed
Typical Values – 100% Stressed via MS Windows HCT's System Stress

| CPU | +5V | +12V | +3.3V |
| --- | --- | --- | --- |
| 2.0GHz | 3.00A | 4.20A | 3.25A |
*Check Technical Reference Manual for additional CPU speeds and system parameters/notes
Power Requirements – Idle
Typical Values – System Idling In Windows XP Desktop

| CPU | +5V | +12V | +3.3V |
| --- | --- | --- | --- |
| 2.0GHz | 3.00A | 2.10A | 3.00A |
*Check Technical Reference Manual for additional CPU speeds and system parameters/notes
Operating Temperature
Operating Temperature: 0° to 60° C
Storage Temperature: -20° to 70° C
Environmental
Airflow Requirements: Must provide 350LFM of continuous airflow across the length of the SHB when using the PASSIVE cooling solution.  When using an ACTIVE cooling solution the chassis needs to deliver 100LFM of continuous airflow across the SHB.
Humidity: 5% to 90% non-condensing
Storage: -20° to 70°C
System Hardware Monitor
Monitor Fan Speed and Temperature

Downloads
Options
Single Board Computers