HDB8231
HDB8231 HDEC Series Large Format Backplane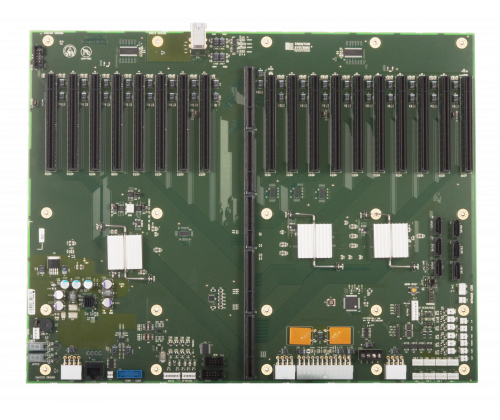 Key Features
2-x8 and 16-x4 PCIe gen 3 (x16 mechanical)

6 – SATA/600 connectors

Supports applications with extended power requirements

Ideal for 5U Rackmount Chassis
The HDB8231 HDEC Series
The HDB8231 single-segment backplane provides eighteen PCI Express Gen3 x16 slots for applications that require large numbers of COTS cards. Designed to integrate seamlessly into any 4U or 5U Trenton Systems rackmount chassis, the HDB8231 offers unparalled available bandwidth via the eighty (80) lanes of PCIe 3.0 provided by the HEP8225 System Host Board. The backplane's architecture enables a switchless design, virtually eliminating data latency between the system's PCIe option cards and processors onboard the System Host Board. ATX/EPS power connectors, three 12V AUX power connectors and a 4-position terminal block provide expanded power supply capability for demanding applications.
Key features of the HDB8231 Large Format Backplane include:

2-x8 and 16-x4 PCIe gen 3 option card slots available:

2  – x8 PCI Express 3.0 electrical

16 – x4 PCI Express 3.0 mechanical

Numerous device I/O connections within each backplane segment simplifies system integration, and cable routing

6 – SATA/600 connectors

2 – USB3 interface header connections

4 – USB2 interface ports

1 – Serial port

8 – System fan headers with built-in fan speed monitoring

Ideal large format backplane for supporting standard 5U rackmount computer chassis

Long life cycle with 7+ year backplane availability.
Trenton designs all of our HDEC Series system host boards and backplanes to fully support the PCI Express auto-training function that ensures SHB-to-option card communications regardless of PCI Express interface type or link width.  This SHB and backplane design feature maximizes system flexibility by enabling system support for standard PCIe 3.0, 2.0 or 1.1 option cards having various PCIe electrical interface link widths such as x16, x8, x4 and x1.

The HDB8231 HDEC Backplane is designed and manufactured in the USA, and backed by our 5-year factory warranty.

Tech Specs
Model Number
HDB8231
Form Factor
HDEC Series large format backplane supports one dual-processor HDEC Series SHB and up to eighteen PCI Express option cards. All card slots are designed for the Gen3 PCIe electrical interface and are equipped with x16 PCIe mechanical connectors. Two of these slots feature PCI Express x8 PCIe electrical interfaces.
The backplane's sixteen remaining slots are driven by the SHB with a x4 electrical interfaces.
Mechanical
Board dimensions: 16.4″/417mm x 12.9″/328mm – large format, single segment
The nominal backplane thickness is 0.080"; however, the backplane mounting holes are recessed 0.018" on the bottom to provide an eff ective PCB thickness of 0.062" for use in the chassis design process.
Configuration
Two x8 and Sixteen x4 PCI  Express 3.0 (all x16 mechanical) slots, and all card slots are PCIe Gen3 capable.
Note 1: Backplane slots PCIe13 and PCIe14 are x8 slots.
Size
16.4″/417mm x 12.9″/328mm
(large format)
Card Slots
2 –  x8 PCI Express 3.0/2.0/1.1 electrical / x16 mech. connectors
16 – x4 PCI Express 3.0/2.0/1.1 electrical / x16 mech. connectors
Suggested SHB's
HEP8225
SHB Configuration
Supports HDEC Series SHB including Trenton's HEP8225.
Agency Approvals & Compliance
Designed for UL60950 and CAN/CSA C22.2 No.60950-00, EN55022:1998 Class B, EN61000-4-2:1995, EN61000-4-3:1997, EN61000-4-4:1995, EN61000-45:1995, EN61000-4-6:1996, EN61000-4-11:1994
Power Connectors
ATX/EPS power source – one right-angle or vertical 24-position ATX/EPS connector
+12V AUX power source – three right-angle or vertical 8-position connectors
Terminal block – one four-position terminal block for extended current applications
Indicators
6 – SATA/600 system headers
2 – USB3 interface system header connections
1 – Serial port header
4 – USB2 rear chassis access interface ports
1 – PS/2 mouse header
8 – GPIO signals available via a GPIO system header
1 – PS/2 keyboard header
1 – JTAG system header
1 – JTAG header 8 – System fan headers with built-in fan speed control
1 – LED dimmer header
2 – System temperature sensor header connections
1 – System speaker header
4 – ACPI control headers (PSON, PWRBTN, RESET, PWRGD)
1 – System keypad header
1 – SMBus header
1 – Clear CMOS header
4 – 3.3V AUX power jumper for the card slots
4 – Alarm status headers for the FAN, TEMP, VOLT and ERROR signals
Operating Temperature
Operating Temp: 0°C to 60°C
Environmental
Storage Temp: -40° to 70°C
Humidity: 5% to 90% non-condensing
Trenton's HDB8231 is a lead free, RoHS compliant backplane.
Downloads