BPG8194
BPG8194 PCI Express Backplane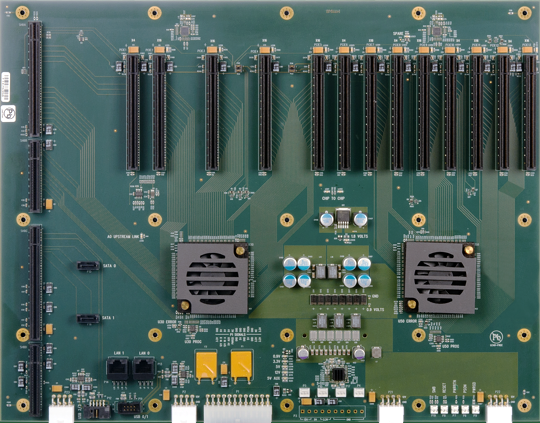 Key Features
All Gen3 PCIe Interfaces

Thirteen PCIe Card Slots

8 – x16 PCIe 3.0 Interfaces

All x16 PCIe Card Connectors
The BPG8194 PCI Express Backplane
The BPG8194 PCI Express backplane features eight Gen3 PCI Express® x16 electrical interfaces. The BPG8194 PCI Express backplane design is an ideal system technology choice in military command and control centers, industrial automation computers, video display wall controllers and GPU rackmount computer systems. This large format or 20-slot form factor backplane supports one PICMG 1.3 SBC and thirteen x16 PCI Express I/O option card slots. Each option card slot uses a PCIe x16 mechanical connector to maximize system design flexibility.
Trenton's BPG8194 PCI Express backplane features eight (8) x16 PCI Express electrical interface links that enable system designers to support multiple high-end video/graphics or GPU cards in a single rackmount computer system. There are thirteen (13) total slots to support standard PCI Express plug-in I/O cards. A single-processor Trenton THD8141 SBC or a dual-processor BXT7059 SBC has the PCIe links to drive the backplane integrated into the CPUs.
Trenton SBCs also support the PCI Express auto-training function to ensure SBC-to-option card communications regardless of PCIe interface type or link width. This SBC and backplane design feature maximizes system flexibility by enabling system support for standard PCIe 3.0, 2.0 or 1.1 option cards having various PCIe electrical interface link widths such as x16, x8, x4 and x1.
Key features of the BPG8194 PCI Express backplane include:

A building block for scalable military and industrial computers, video wall controllers and GPU computing solutions

Thirteen Eighteen total PCIe 3.0 option card slots available in PCI Express backplane application

8 – x16 PCI Express 3.0 electrical / x16 mech. connectors

5 – x4 PCI Express 3.0/ electrical / x16 mech. connectors*

Optimized PCI Express 3.0 link design maximizes data throughput while minimizing data latency

Long life cycle with 7+ year backplane availability
*
The PCIe1 card slot may operate as a x4 PCIe 2.0/1.1 link interface depending on SBC
The BPG8194 PCI Express backplane is designed and manufactured in the USA, and backed by our 5-year factory warranty.

Tech Specs
Model Number
BPG8194
Form Factor
Large format, i.e. 20-slot, form factor backplane supports one combo or graphics-class, PICMG 1.3 SHB and up thirteen PCI Express option cards. All card slots are designed for the Gen3 PCIe electrical interface and are equipped with x16 PCIe mechanical connectors. Eight of the card slots are driven with Gen3 PCI Express x16 electrical interfaces and the remaining five slots support a x4 PCIe electrical interface.
Mechanical
Board dimensions: 16.4" x 12.9"
The nominal backplane thickness is 0.080"; however, the backplane mounting holes are recessed 0.018" on the bottom to provide an effective PCB thickness of 0.062" for use in the chassis design process.
Configuration
Graphics: Eight PCIe x16 and five PCIe x4 (all x16 mechanical) slots, all card slots are PCIe Gen3 capable

Size
16.4″ x 12.9″ (large format/20-slot)
Card Slots
8 – x16 PCI Express 3.0/2.0/1.1 electrical / x16 mech. connectors
5 – x4 PCI Express 3.0/2.0/1.1 electrical / x16 mech. connector
Suggested SHB/SBC's
THD8141, BXT7059, BXTS7059, JXT6966, JXTS6966, TSB7053, and TQ9
SHB Configuration
Any combo or graphics-class PICMG 1.3 system host board including Trenton's THD8141, BXT7059, BXTS7059, JXT6966, JXTS6966, TSB7053, or TQ9. An optional IOB33 plug-in module is not required for use with the BPG8194 backplane.
Agency Approvals and Compliance
Designed for UL60950 and CAN/CSA C22.2 No.60950-00, EN55022:1998 Class B, EN61000-4-2:1995, EN61000-4-3:1997, EN61000-4-4:1995, EN61000-4-5:1995, EN61000-4-6:1996, EN61000-4-11:1994
Power Connectors
ATX/EPS power source – one right-angle or vertical 24-position ATX/EPS connector
+12V AUX power source – four right-angle or vertical 8-position connectors
Terminal block – one ten-position terminal block for extended current applications
Power Indicators
+5V, +5V AUX, +12V, and +3.3V power connection and status
Indicators
Environmental
Operating Temp: 0°C to 50°C with standard cooling solution and 350LFM of continuous airflow
Storage Temp: -40° to 70°C
Humidity: 5% to 90% non-condensing
The BPG8194 is a lead free, RoHS compliant backplane.

Downloads
Options
Single Board Computers
BXT7059, THD8141, BXTS7059, JXT6966, TSB7053