BP7/6
BP7/6 PICMG 1.0 Backplane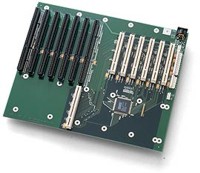 The BP7/6 PICMG 1.0 Backplane
The BP7/6 has PICMG® 1.0 backplane supports six 32-bit/33MHz PCI and six ISA option card slots along with a PICMG 1.0 compliant SBC slot.
Tech Specs
Form Factor
14-slot, supports One PICMG 1.0 Single Board Computer
Configuration
PCI Slots
Six, PCI slots, 32-bit/33MHz
ISA Slots
Six, 8-bit ISA slots
See datasheet or mechanical layout diagram for detailed slot routing information.
Mechanical
Board dimensions: 12.3" x 10.1"
Agency Approvals and Compliance
Designed for UL60950 and CAN/CSA C22.2 No.60950-00, EN55022:1998 Class A (minimum), EN61000-4-2:1995, EN61000-4-3:1997, EN61000-4-4:1995, EN61000-4-5:1995, EN61000-4-6:1996, EN61000-4-11:1994
Power Connectors
The BP7/6 backplane is available with a vertical AT or ATX power connector. The power connection for +3.3V is available through a 12-pin .156 MTA connector or the optional ATX connector.
Power Indicators
+5V, -5V, +12V and +3.3V power connection and status
Environmental
Operating Temp: 0° to 60°C
Storage Temp: -20°C to 70°
Humidity: 5% to 90%, non-condensing

Downloads
Options
Single Board Computers PICMG 1.0